So I decided it was about time I post again. I know it has been a while, but I'm not gonna apologize this time, cause I think I've done that on the last two or three posts and you probably get the picture by now. :-)
Although I have been absent from the blogosphere, I have been working in PhotoShop quite a bit. I am working right now on redesigning our church's website (http://lgbc.bc.ca) as well as quite a few other small graphics for different people. I have been designing quite a few sports-related graphics this past week which is a lot of fun.
(a few of these may cut off at the end, just click on the graphic to open the full thing in a new window)
This graphic is not for anyone in particular, I just thought the stick and puck were neat. So I took the picture into PhotoShop, jazzed it up a bit, added some text with a motion blur, and out came a pretty neat little banner.

I love the contrast in this one...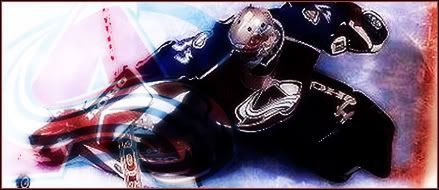 And this one...well, you gotta love Roberto Luongo no matter what you do with him, but I love this graphic. Some of the best graphics out there are some of the simplest too, and I love the simplicity, contrast, and colours of this graphic.

So...shying away from the sports theme a bit, this is a header I made for a friend of mine's blog. Not really a lot to say about it. I can't say it is one of my best, but he seems to really like it and I think it will serve it's purpose well.


Click to Enlarge
A little bit of Spider-Man action...everyone loves Spider-Man.

And last, but not least, I have finished my wallpaper set for our church. They can be viewed
here.
(http://lgbc.bc.ca/desktops.htm)
Well, that's it for now...I hope you enjoyed. I will try to start posting more often, but I can't make any promises. :-D